The Masters Certificate in Project Management (MCPM) provides a fast-track, in-depth approach to the delivery of project management training. Canadian in its roots and location, it recognizes the shortage of time which most project managers face.
Offered in Spring and Fall, this 9 module, 18 day non-credit program includes case studies, lectures, simulations, in-class exercises and discussions teach you timely, pertinent topics while giving you the chance to apply the teaching to your real life projects.
Space is limited, so please register soon to avoid disappointment.
What's Included
The university's liability is limited to reimbursement of paid tuition fee. You must attend all program modules in order to receive a framed certificate of completion.
Tuition for the Masters Certificate in Project Management includes:
Program tuition
All teaching materials
Certificate of course completion
Prerequisites
A university degree is not required to attend this program. However, project managers with at least one year of project management experience, or those who have taken a short (1–3 days) Introduction to Project Management course in the past few years, would benefit most from this program.
Results and Preparedness
92.3% of past participants in post program survey reported that the program had a positive impact on their careers. 97.4% improved the way they perform as project managers.
Upon completion of the program, you'll be ready and able to write the Project Management Professional (PMP)® final exam (provided you meet the eligibility requirements specified by the Project Management Institute (PMI)®. With both certificates, your career potential in project management knows no boundaries!
Statistics from our partners at Schulich School of Business noted a 44.2% chose to write a PMP® exam, 95.5% of them passed it on the first try and the rest passed it the second time.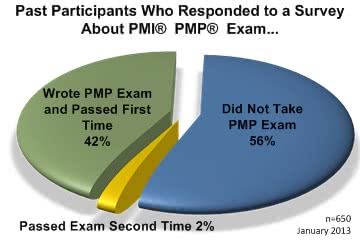 Program Fee: $9,450 (plus G.S.T)
Includes nine-module program tuition and all teaching materials. Note that our programs are management development courses and do not qualify for personal tax exemption from CRA.
Payment
All program fees and deposits may be paid via cheque, credit card, or purchase order.
Learn about Tuition Assistance »
Please note: our programs are management development courses and do not qualify for personal tax exemption from CRA.
Deposit
A deposit of $955 (plus G.S.T.) must accompany your registration in order to confirm your place in the program. Please include your credit card information on faxed registrations; or include an $1002.75 cheque, credit card deposit, or purchase order with your mailed registration.

Replacement
If you are unable to attend the program, you may transfer to the next session, subject to the 21-day written notification requirement or your organization may name a replacement candidate.
Transfers
Only one module transfer to another session will be permitted (subject to space availability) without penalty. Each subsequent transfer request has a $200 administration fee.
Cancellations
A full refund can be issued for written cancellations received a minimum of 21 days before the program start date. Cancellations received with less than 21 days notice will be refunded less an administration fee (equal to the tuition deposit). Non-attendance or withdrawal after the program start date will incur a full program fee. Written cancellations received within 21 days prior to the program start date will incur an administration charge of $1002.75 ($955 plus G.S.T.).